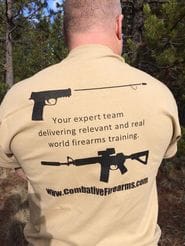 Hosts get free training spots, so hurry and reserve your training dates now!
​If you or your Agency are interested in Hosting a class, please contact CFT for more information.

Combative Firearms Training specializes in providing firearms instructors with ongoing instructor development, training, and continuing education. Our instructor classes bring unique concepts, tips & tricks, techniques, and drills that will make any instructor more effective. We believe in providing solutions that instructors can immediately use to build better shooters.

For shooters and operators looking to improve their own skills, we also offer a wide variety of classes designed to make you a better and safer shooter. Our classes will have you performing at levels you didn't think were possible.

When it comes to selecting your firearms instructor team, Combative Firearms Training has the background, experience, and credibility you need in order to prevail. Todd & Chrystal Fletcher not only teach classes as a team, but they have the experience to help you improve your skills. Todd & Chrystal have taught from coast to coast all over the United States. They have trained shooters and instructors in every state as well as instructors from Italy, Germany, Hong Kong, Australia, New Zealand, Puerto Rico, Trinidad & Tobago, England, Denmark, and Canada.

Todd & Chrystal are successful authors having written numerous articles for a wide variety of firearms instructor, firearm enthusiast, law enforcement, and training publications. Articles include active shooter response, building searches, leadership, instructor development, reality-based training, drill development, coaching shooters, diagnosing shooter problems, and much more!

Instructors Todd & Chrystal Fletcher are deeply committed to providing the very best, relevant, and real world firearms training. To achieve this goal, Combative Firearms Training offers innovative courses designed to meet the demanding needs of today's Law Enforcement, Military Personnel, and Contract Security.

We believe skill development, "the how", is only one of the goals of effective firearms training. Understanding "the why" allows shooters to self diagnose and correct their mistakes, leading to accelerated improvement in their knowledge, skills and abilities.
---

Combative Firearms Training is proud to be a member of the following organizations and supports these Equipment Manufactures